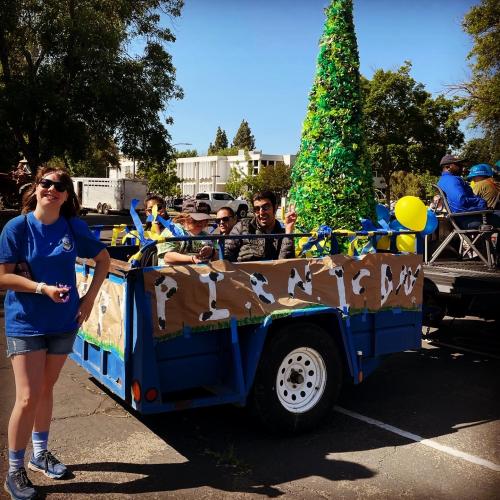 How can you prepare for an inclusive post-secondary program?
Students who have intellectual disabilities and are considering applying to a four-year, inclusive residential college program can prepare for the opportunity in a number of ways. Here are a few recommendations:
Take a lead in your IEP...share your goals, your hopes and dreams and include your wish to attend college

Volunteer with an organization that matters to you

Get a job 

Attend a summer camp away from home

Continue learning in an area of interest that excites you

Begin to take public transportation with support 

Make appointments for yourself

Fill out forms for yourself

Practice communicating with email (get an email pen pal)

Walk around your neighborhood with support and then try it on your own

Do chores around the house

Begin cooking for yourself

Get a debit card and begin watching how you spend money

Keep reading, keep writing, keep learning

Plan a party, an outing, a fun activity...anything

Set your own alarm and get yourself together in the morning

Learn how to do your own laundry

Practice problem-solving...if something doesn't work out, try a different way

Make a plan for what to do if you get lost and then practice - use the map available on your phone
Inclusive college programs have been in existence for over twenty years so we have data now on what predispositions in applicants lead to student success in inclusive college programs.
The following are nine core competencies that have been identified for applicants with intellectual disabilities that are considering an inclusive higher education opportunity. Working on these skills and dispositions will greatly improve your chance of success in an inclusive college program.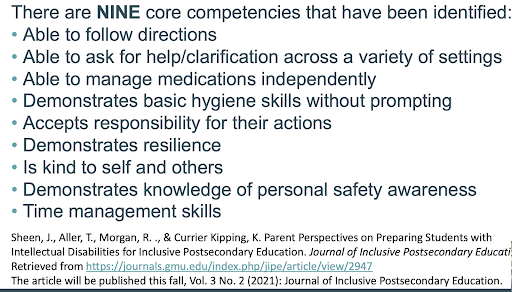 Think College
Think College is the clearing-house of information for these inclusive college programs. There are tremendous resources available on Think College. This includes webinars, program descriptions about different college options, explanations on outcomes for these programs and resources to prepare for college.
Think College is a national organization dedicated to developing, expanding, and improving inclusive higher education options for people with intellectual disabilities. With a commitment to equity and excellence, Think College supports evidence-based and student-centered research and practice by generating and sharing knowledge, guiding institutional change, informing public policy, and engaging with students, professionals and families.
Find and compare information on over 250 college programs for students with intellectual disabilities! Search by program name, location, and other keywords. See "Advanced Filters" for more options to help you narrow your search and build a list of schools that are a good match for you.
Preparing for Postsecondary Life
Below are 20 powerful strategies to prepare your child, or yourself, for life after highschool.